A complete guide to stocking your Art supply closet
After a year and half, our little yard is no longer a big pile of dirt, it has a patio, flower beds, and grass is growing!! These things are excited in and of themselves, but the really excited part is that means that it's time to add all of the fun details….. DECORATE… and, well , I don't know an artist/maker, that doesn't get super excited about the opportunity to decorate.
In my dreams, I want to create some kind of installation art, that hangs high above our tiny yard, but I've yet to figure out the logistics of how everything will actually stay in place. So for now, I went in search of string lights. In an effort to avoid extension cords, and the overall complication of getting electricity to lots of lights, I decided to try solar lights.
So I hoped onto Amazon and started searching for solar powered outdoor string lights…. and, as with most things, there were so many choices, and now I had to chose. But, I don't really know much about solar powered string lights, so I read a few reviews, chose one that I liked the price, and ordered one strand to test out before I decide to dive in.
The art store can feel the same way, unless making art is your jam, and then the art store is a magical place where you spend all of your money.
Today, I'm writing to you , the mom who feels a bit overwhelmed when they're child hands them an art supply list, the mom who isn't sure what art supplies to purchase and keep around the house to serve their creative child. Today's shopping list is for you.
You can spend ALOT of money on art supplies if you want to, but I'm a firm believer that you don't have to, in fact I'm working on a whole series of things that you can do with your junk mail aka FREE STUFF!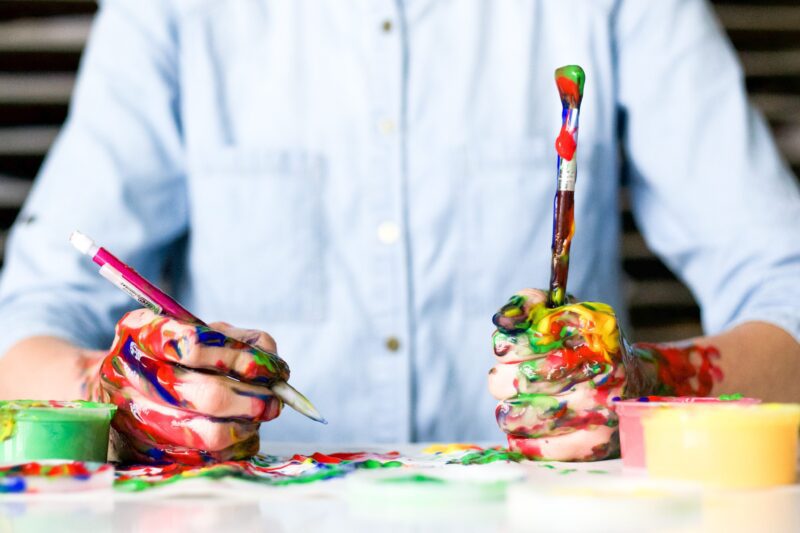 Art supplies for the little kiddos: Elementary and under
Crayons: Get Crayola, they are the best, but don't feel like you have to get a box with 200 colors. There's nothing wrong with your child needed to experiment with layering colors.
Colored Pencils, again you don't need a giant box, and I would hold off of these until they're a little bit older, because kids tend to break the tips and go through them quickly. When you do decide to start using colored pencils, get yourself a plastic hand sharpener, electric sharpeners tend to eat colored pencils like nobody's business.
Makers, I'd recommend making sure that they're washable
Pacon White Easel Roll, 18 X 200 Feet, White (4763): 1 because who the heck doesn't love a giant roll of paper, 2 because it's great for covering your work space, and 3 it allows your kids to work big. You can also find rolls of paper at most office supply stores and restaurant stores.
Construction paper: grab a pack with lots of colors
Plain white drawing paper
scissors
glue sticks and elmers
Crayola 5ct Art and Craft Brush Set
It's always a good idea to have some tape near by, it solves almost anything.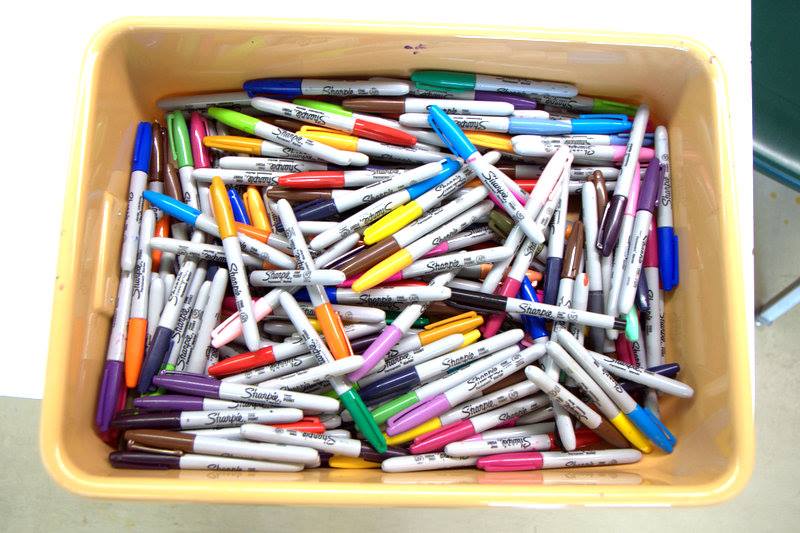 Talking about Paint
11. I LOVE  using acrylic paints, Liquitex Basics Matt Acrylic Color Primary Paint Set
with kids of all ages, because it's thicker and just better. But it's also not know for it's ability to come out of clothes ( it's not washable) , so purchase at your own risk. OR buy tempera paint. You should be picking up a theme here, you don't need to buy all of the colors, red, yellow, blue, black, and white will do the trick, and you're child will start to learn about how to mix colors. ( Egg cartons, or wax paper are great for kids to use to mix paint)
12. Watercolors are fun and not too messy. The main thing is the paper, the thicker the paper the better. Watercolor paints are also pretty cool painted onto coffee filters.
Things to collect but not buy
magazines, great for collage
old calendars, the pictures are great to use for collage, but also can work well as reference images for drawing
scarp paper
rubber bands
plastic containers
cardboard
lids from soda bottles
Art supplies for older kids
Colored Pencils, I like Prismacolor Premier Colored Pencils, Soft Core, 24 Pack the best. You might also want to consider Water Color Colored Pencils ( they're a really fun mix between using colored pencil and water colors)
Oil and or chalk pastels ( chalk pastels can be beautiful, but personally I hate how they feel, and can't stand all of the dust)
Sharpies. If you have a really serious artist you might also want to check out Copic Marker 12-Piece Sketch Basic Set ( I say serious because they are great, but also very expensive)
Acrylic paint in red, blue, yellow, black and white , Liquitex Basics Matt Acrylic Color Primary Paint Set